L.Dre - Dear Katara

hello there! welcome to my user page. my name is rikuya, you can call me riku for short. i am an administrator of this wiki alongside bubble and Jake. if you have any questions, feel free to leave a message in my wall. also don't forget to read our guidelines before editing!
we have a small community, mostly we chat through our discord channel. feel free to join and happy editing <3
about me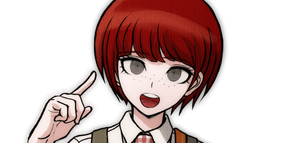 he/him • infj-t
a blunt and honest cancerian who likes to read and write; but that doesn't make me the most productive person ever lol, i'm actually quite the opposite skafaslka uhhh chile anyways.
i'm a pretty chill person but i can be really strict with our rules—but don't get me wrong, i'll always be there for you who need our help! as i said, feel free to message me anytime if you have questions <3
about danganronpa
i joined the fandom after i watched dr1 anime back in 2013 and stayed until today pretty much. what a wild ride. my major contribution for the fandom is probably managing the wiki alongside my talented staff team! love them lots.
i have soooo many favorite characters lol, but out of everyone, i love kiyotaka ishimaru, hiyoko saionji and ryouma hoshi the most. they are babey to me ugh i just want to give them a hug. i adore mahiru koizumi, maki harukawa, touko fukawa and korekiyo shinguuji as well <3
other than danganronpa, i'm in persona 3/4/5, identity v, atla, tlok, nanatsu no taizai, and life is strange fandom. i'm also a big fan of studio ghibli and materwelonz
Community content is available under
CC-BY-SA
unless otherwise noted.